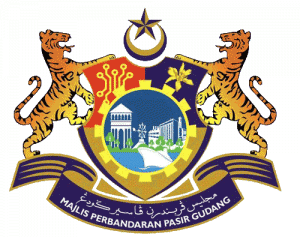 Pasir Gudang Municipal Council Logo Rationale

The Pasir Gudang Municipal Council (MPPG) Logo visualises Pasir Gudang as a modern city with an integrated, holistic and systematic development equipped with it own administration, port facility and trade centre. In addition, the logo indicates Pasir Gudang as a peaceful and prosperous city of recreation, tourism, and industry.

The symbols present in this logo indicates MPPG as a responsible organisation and plays a critical role as a Local Authority responsible towards the administration and development of Pasir Gudang as stated below :
A Shield Held Up By Two Tigers

Symbolises MPPG firmness in conducting the responsibilities entrusted to it and law enforcement.
Star and Crescent

Symbolises that all activities organised are based on the noble values of Islam which is deeply respected as an official religion.
Shield

Symbolises MPPG's credibility as a local authority.
Tree & Green Coloured area

Symbolises the greenery of Pasir Gudang as a garden city with its beautiful landscape
A symbol of buildings surrounded by a circle represents the development of Pasir Gudang that is integrated, comprehensive and organised, consistent with a holistic development as suggested by the government.
Gold and yellow colour

Symbolise MPPG personnel's loyalty, excellence, and corporate work culture.
Dark red and blue colour

Symbolises the Johor State flag colours of which indicates MPPG's location within the State of Negeri Johor Darul Ta'zim.
The IT and the serrated yellow circle symbol symbolise the existence of various activities in Pasir Gudang industrial sector covering the heavy, medium and small industry with state-of-the-art technology which is growing rapidly and contributing to MPPG's main source of income .
Ship & waters

Symbolises the strategic location of Pasir Gudang as an international trading centre of the Southern Peninsular equipped with two major ports.
Flower

Symbolises the official flower of Pasir Gudang which is also known as the Cempaka Jingga